Santa Fe: A must visit on your "Bucket List"
For those that enjoy a variety of art, world-class cuisine, outrageous sunsets and mild summer weather then Santa Fe definitely needs to be on your bucket list. I've been going there my whole life and I still get a thrill peaking over La Bajada hill (Spanish for "The Descent") on I-25 coming from Albuquerque and seeing the City Different tucked into the Sangre de Cristo Mountains (Spanish for the "Blood of Christ"). That initial view, followed by my first bite of green chile, the smell of pinion trees and visuals of ridiculously slow low rider cars all say home.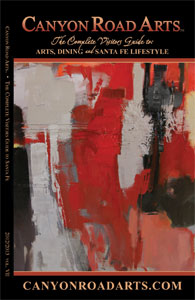 The art scene in the summer is non-stop, with a multitude of major shows, openings and of course Friday art walks up and down Canyon Road. As gallery owners we can't wait for the summer to start and sometimes to end. It can be challenging dealing with the number of tourists that decide to fulfill their life long dream of seeing Santa Fe, but of late the crowds have been thinner and the getting a table at my favorite restaurant La Boca even do-able, as long as its before 6.
The first thing you want to find is a Canyon Road Arts catalog. The book is chalk full of great places to eat, many of which you would never know about as a tourist. It also has a handy map of all the galleries on Canyon Road and what they handle, no galleries are left out, and it's by far the best gallery guide for the road. Most of the hotels will have a copy and you can always find free ones at my gallery at 602A Canyon Road.
After you have hit enough galleries to make your feet sore, and neck red (be sure to wear sunscreen, we're at 7000 feet, then head to the museums again all listed in the aforementioned catalog. This year there is a great exhibit, which just opened at the Wheelwright Museum about their founder Mary Cabot Wheelwright. There are some remarkable artifacts from her life and a short video on the great weaver Hastiin Klah.
Lastly, if you can swing it, come to Indian Market weekend, to see it is to believe it. The hundreds of vendors that set up around the plaza is like nothing you can imagine. This year the show is August 18th and 19th but the activities really start on the 16th. I will be having a book signing on August 16th for my new murder mystery "Paint by Numbers" and on the 17th a Friday afternoon opening 2 – 4 for Shonto Begay both at my gallery. These are just 2 events we will have, but almost all the galleries will be celebrating a favorite artist, many of them related to a celebration of Native American art.
So if you haven't planned a trip to the Hampton's or Paris, then come to the second oldest city in America and plan to be charmed, there is no place like Santa Fe, especially in the summer.